Drinking water fountains for tighter budgets, providing the essentials.
Designed for any budget, providing the necessary basic requirements.
Requires water supply, drainage and electrical connection.
Steel interior with anti corrosion treatment.
Smaller dimensions than the series 6.
Easily regulated cold water temperature (thermostat).
Hygienic water jet outlet protection.
All models with cup filler (LV).
An active carbon filter installed inside the drinking fountain.
Models
T-7ALV

Static cooling system (without fan).Less cooling capacity. Not appropiate for a continuos water supply.
Stainless steel exterior.
Cold water jet operated by push button.
Cold water cup filler (LV).
T-6ALV
Stainless steel exterior.
Cold water jet operated by push button.
Cold water cup filler (LV).
Conform to electrical safety standards
Conform to sanitation standards
Conform to 98/83/EC standard
| | | |
| --- | --- | --- |
| SERIES | T - 6 | T - 7 |
| COOLING POWER (W) | 350 | 200 |
| POWER CONSUMPTION (W) | 200 | 100 |
| VOLTAGE 230 V 50 Hz single-phase (A) (Consult other options) | 0.9 | 0.5 |
| COOLING CAPACITY (l/h) | 30 | 18 |
| WATER FLUX SPEED (l/h) | 60 | 60 |
| WATER OUTPUT TEMPERATURE (ºC) (Regulated by thermostat) | 4-11 | 4-11 |
| REFRIGERANT GAS (CFC - free) | R-134a | R-134a |
| WEIGHT (kg) | 25 | 19 |
| WATER TANK CAPACITY (l) or STAINLESS STEEL DIRECT CHILL | 4,5 | YES |
Model T-7ALV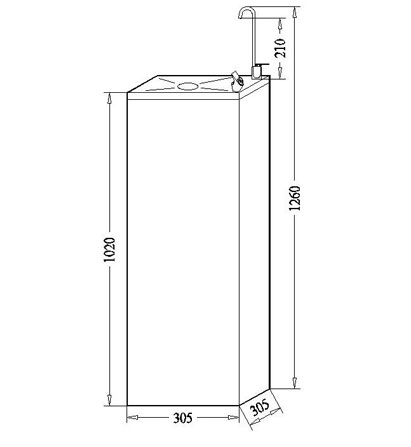 Model T-6ALV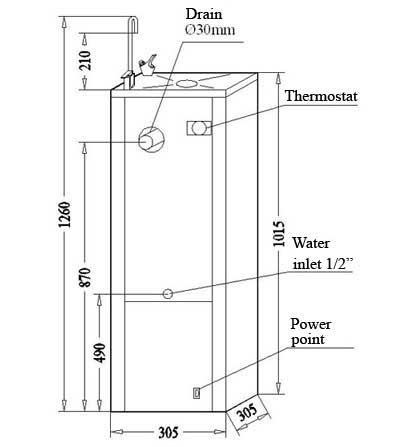 PURIFICATION FILTERS
An active carbon water filter is recommended in order to obtain optimum water conditions, thanks to the elimination of bad tastes and smells like that of chlorine and small particles or contaminants that can be present in water.
Models



M-105


Plastic housing and cartridge C-115.
Maximum pressure 8 Kg. / cm³
½ inch water supply.

M-115


Stainless steel housing and cartridge C-115.
High pressure tested, up to 21kg / cm³ (especially with sudden increases in water pressure).
½ inch water supply.



CARTRIDGE C-117


Spare cartridge for filters M-105 y M-115.
This cartridge is specially selected by Canaletas for its drinking fountains, for their high quality and performance because these fountains require a high filtering capacity.
Active carbon block cartridge with 5µm filtration and a working life of more than 22,000 liters of water or approx. 1-year duration.
Combines the functions of a sediment filter, that eliminates the small particles that could be in the water, along with the properties of active carbon for possible bad tastes and smells. The polypropylene pre-filtering layer extends the cartridge life.
RECOMENDATION
Canaletas recommends changing the cartridge of the purification filter once a year, especially before summer, but it could be more often depending on water quality and degree of use.
After Sales Service
Canaletas After Sales Service or an authorized distributor, can offer a complete maintenance of the water cooler including the CANVAP sanitation system.
What is sanitation ?