With superior capacity, designed to serve up to 40-50 users.
Where it is necessary to refill bottles, jugs or other types of containers like in dining rooms, canteens... or to serve up to 50 people simultaneously.
Flat top plate so containers can sit comfortably.
High swan-neck filler for easy filling of larger containers.
Requires water supply, drainage and electrical connection.
Made externally and internally of A-304 stainless steel.
All models with swan-neck filler.
The installation of a purification filter is recommended for better water quality.
Models
M-8A
Swan-neck operated by push button for cold water.
No water jet.
M-88A
Swan-neck operated by push button for cold water.
Cold water jet.
Each one operated by push button.
M-88AFO

Water with three temperatures: ideal for any time of year.
Swan-neck operated by push button for cold water.
Jet with three water temperatures.
Cold: Operated by pedal.
Room temperature: Operated by push button.
Mixed: Pedal and push button simultaneously.
Conform to electrical safety standards
Conform to sanitation standards
Conform to 98/83/EC standard
| | |
| --- | --- |
| COOLING POWER (W) | 600 |
| POWER CONSUMPTION (W) | 230 |
| VOLTAGE 230 V 50Hz single-phase (A) (Consult other options) | 1,1 |
| COOLING CAPACITY (l/h) | 50 |
| WATER OUTPUT SPEED (l/h) | 360 |
| WATER OUTPUT TEMPERATURE (ºC) (Regulated by thermostat) | 4 -11 |
| REFRIGERATE GAS (CFC - free) | R290 |
| WATER TANK CAPACITY (l) (Optional: Stainless steel direct chill) | 7.5 |
| WEIGHT (kg) | 31 |
Model M-8A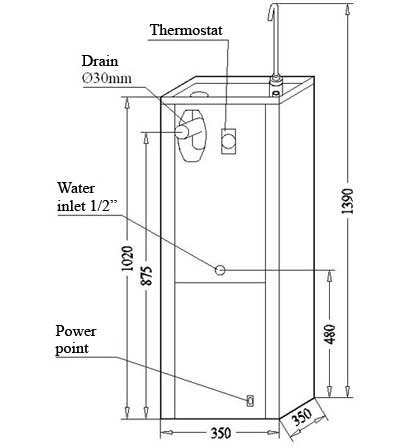 Model M-88A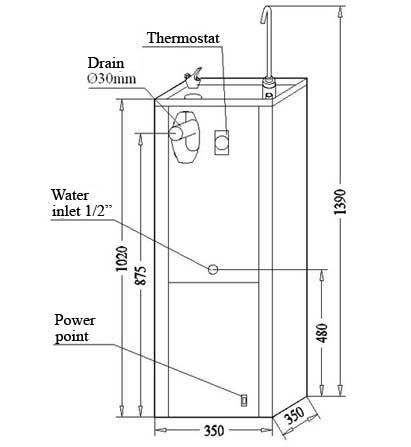 Model M-88AFO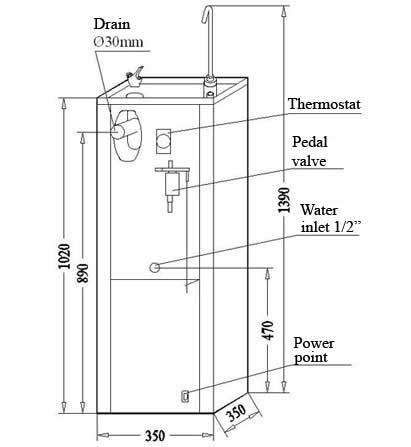 PURIFICATION FILTERS
An active carbon water filter is recommended in order to obtain optimum water conditions, thanks to the elimination of bad tastes and smells like that of chlorine and small particles or contaminants that can be present in water.
Models



M-105


Plastic housing and cartridge C-115.
Maximum pressure 8 Kg. / cm³
½ inch water supply.
REPLACEMENT CARTRIDGE


Spare cartridge for filter M-105.
This cartridge is specially selected by Canaletas for its drinking fountains, for their high quality and performance because these fountains require a high filtering capacity.
Active carbon block cartridge with 5µm filtration and a working life of more than 22,000 liters of water or approx. 1-year duration.
Combines the functions of a sediment filter, that eliminates the small particles that could be in the water, along with the properties of active carbon for possible bad tastes and smells. The polypropylene pre-filtering layer extends the cartridge life.
RECOMENDATION
Canaletas recommends changing the cartridge of the purification filter once a year, especially before summer, but it could be more often depending on water quality and degree of use.
After Sales Service
Canaletas After Sales Service or an authorized distributor, can offer a complete maintenance of the water cooler including the CANVAP sanitation system.
What is sanitation ?