With integrated reverse osmosis filtration. Designed for the hardest water.
The water cooler includes a high capacity filtration system that eliminates suspended solids and microorganisms to ensure a high quality of pure water.
It is recommended the use of this filtration system in areas where the municipal water supply is of inferior quality and requires a higher capacity filter.
The same features as model M77ID, but requires water drain connection.
Models
M-77OI
Cold tap.
Room temperature tap.
INTEGRATED OSMOSIS SYSTEM IN M-77 OI WATER COOLER
PATENTED DESIGN
Patented osmosis system, the compact design ensures reliable water flow between the various stages of filtration, avoiding the need for multiple connections or loss of water.
4 STAGE FILTRATION WITH A PUMP
Consists of the following four stages of filtration, which combined with the water pump guarantees a high quality of water:
Pre-filter for sediments.
Activated carbon filter.
Reverse osmosis membrane.
Post-filter activated carbon.

HIGH PERFORMANCE AND HIGH EFFICIENCY
High water production approx. 250L /day.
High rate of input water use: 35%.

VERY EASY TO SERVICE
The special design of the equipment makes it very easy to maintain.
To replace the filters, simply twist the container and replace it.
Without handling any connections or tubes, with no possibility for error or water leakage.

Conform to electrical safety standards
Conform to sanitation standards
Conform to 98/83/EC standard
| | |
| --- | --- |
| COOLING POWER (W) | 175 |
| POWER CONSUMPTION (W) | 125 |
| VOLTAGE 230 V 50 Hz single-phase (A) (Consult other options) | 0.7 |
| COOLING CAPACITY (l/h) | 20 |
| CUP FILLING TIME (seconds) | 4 |
| WATER OUTPUT TEMPERATURE (ºC) (Regulated by thermostat) | 4-11 |
| REFRIGERANT GAS (CFC - free) | R-134a |
| DIMENSIONS (diameter x height) (cm) | 31x105 |
| WEIGHT (kg) | 19 |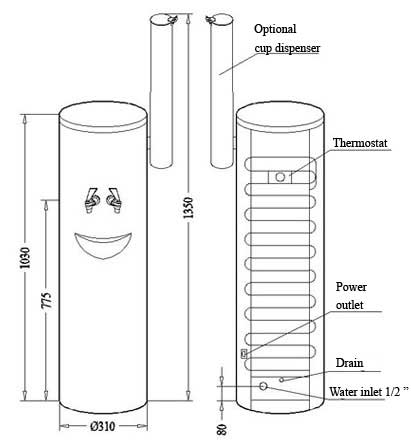 CUP DISPENSER


For easily accessible cups.
Vertical column design.
Made entirely of stainless steel.
Attachable to bottled water coolers (Series 1,3, 7)
or models of POU water coolers (Series ID, 9ID,OI) or to the wall.


CUPS

220ml plastic cups.
Transparent plastic cups.
Compatible with cup dispenser.


OSMOSIS FILTERS
Models



PRE-FILTER SEDIMENT CARTRIDGE


Sediment cartidge removes small particles from the water with a capacity of 5 microns. Its function is to remove particles from the water that may shorten the life of the membrane. Needs to be changed every six months.



CARBON FILTER CARTRIDGE RO


Activated carbon cartridge removes bad tastes and odours. It also protects the reverse osmosis membrane, prolonging its life. Needs to be changed once a year.



RO MEMBRANE 50 GPD


The reverse osmosis membrane removes 95% to 99% of the total dissolved solids and 99% of all bacteria from the water at a rate of 50 GPH. Needs to be replaced every two years.

POSTFILTER CARBON CARTRIDGE
Its function is to make a final filtration, leaving the water perfect for consumption. Needs to be changed once a year.


RECOMENDATION
Canaletas recommends changing the GAC filter once a year, especially before the summer season, but the frequency may need to be higher depending on water quality or the level of usage .
After Sales Service
Canaletas After Sales Service or an authorized distributor, can offer a complete maintenance of the water cooler including the CANVAP sanitation system.


What is sanitation ?