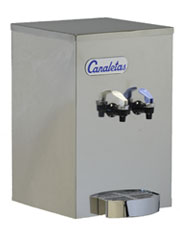 SERIES 3ID

Small tabletop water cooler, designed for consultations, offices, meeting rooms and kitchens...

- With a compact design, to be placed on any surface.
- Approximate capacity of 15-20 users.
- Easy installation: only requires water supply and electrical connection.
- Doesn't require drainage. Used with cups.
- Rectangular design for more durability.
- Cooling system through stainless steel coil, high efficiency and hygiene.
- Superior quality. Made from A-304 stainless steel.
- Easily regulated cold water temperature (thermostat).
- Optional cup dispenser attachable to the water cooler or the wall.
- The installation of a purification filter is recommended for better water quality.
Models



M-33ID


Room temperature tap.
Cold tap.



| | | | |
| --- | --- | --- | --- |
| | Certified to conform to EU standards that guarantees user safety. | | Conform to sanitation standards |
| | |
| --- | --- |
| COOLING POWER(W) | 186 |
| POWER CONSUMPTION (W) | 110 |
| VOLTAGE 230 V 50 Hz single-phase (A) | 0.6 |
| COOLING CAPACITY (L/H) | 16 |
| CUP FILLING TIME (seconds) | 4 |
| WATER OUTPUT TEMPERATURE (ºC) (Regulated by thermostat) | 4-11 |
| DIRECT CHILL COOLING SYSTEM | YES |
| REFRIGERANT GAS (CFC - free) | R-134a |
| WEIGHT (KG) | 14 |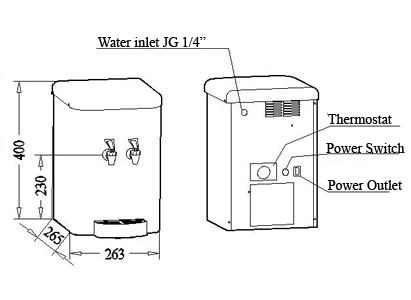 CUP DISPENSER


For easily accessible cups. Vertical column design. Made entirely of stainless steel.
With series 3ID attachment to the wall is recommended in order to economize on space.
High capacity: 95 x 220cc cups, with a view of the last cups, in order to replace them in time.



CUPS


220ml plastic cups.
Transparent plastic cups.
Compatible with cup dispenser.


PURIFICATION FILTERS

An active carbon water filter is recommended in order to obtain optimum water conditions, thanks to the elimination of bad tastes and smells like that of chlorine and small particles or contaminants that can be present in water.


Models
GAC FILTER
This single unit filter is ideal for POU water coolers. These coolers are normally used with drinking cups and therefore the quantity of water consumed is usually less. An activate carbon filter of 0,5 µm with an active life of 5000 liters or approx. 1 year.

RECOMENDATION
Canaletas recommends changing the filter once a year, especially before the summer season, but the frequency may need to be higher depending on water quality or the level of usage .
ULTRAVIOLET (UV) WATER FILTERS

Models



UV ULTRAVIOLET FILTER


Designed to kill/inactivate 99.9% of harmful bacteria (i.e. Coliforms, Faecal & E. Coli), virus, Fungi Algae such as hepatitis, influenza, Legionella and other possible microorganisms. Its use is recommended when the amount of chlorine in the water is very low, poorly controlled waters or in environments with increased risk of infections. Output: 6 watts. Sterilization capacity of up to 4 liters per minute. With an approximate ife of 6,000 hours. The color changing head light indicates the need to change the lamp. The UV lamp is replaced very easily by simply unscrewing the top of the head.


What is sanitation?